A Lift For Every Situation
Discover our award-winning range of home lifts and commercial platform lifts crafted by world-leading Swedish lift manufacturer Aritco Lift AB. Aritco's dedication to innovation and precision is evident in every aspect of their lift design, showcasing their commitment to excellence. It's no wonder they can be found in over 35,000 buildings and private homes worldwide.
When you choose an Aritco lift, you're not simply acquiring a piece of high-quality equipment; you're investing in an addition to your home or business that will make your space more accessible. Whether you're a three-generation family looking to accommodate elderly relatives, a shopping mall, library, office or any other public building, our commercial and domestic lifts are the perfect access solution.
Our platform lifts feature a state-of-the-art SmartSafety system, including smart doors and safety sensors that will prevent closure if any obstructions are detected. For added security, all Aritco home platform lifts are equipped with an alarm system and an autodialer, allowing you to contact emergency services directly from the lift should the need arise.
What sets these lifts apart is that they don't require a separate machine room or control cabinet. Instead, the lift drive and control system are enclosed within the self-contained lift shaft. Furthermore, our lifts are driven by a unique screw and nut system that has been specially developed and adapted to the requirements of a home environment; it is quiet and smooth-running with a soft start and stop.
All our lifts are designed for quick and hassle-free installation, ensuring you can have them up and running in a few days - this means you'll experience minimal disruption, whether in your home or workplace.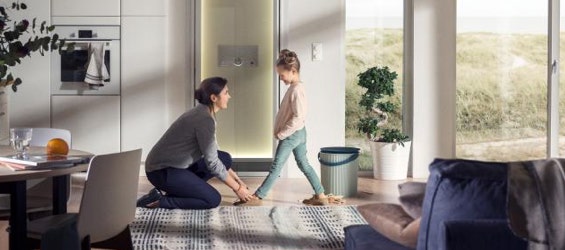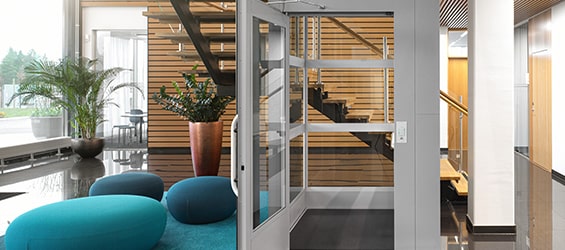 Why Aritco Platform Lifts?
We choose to supply Aritco lifts for several compelling reasons. Firstly, Aritco has earned a remarkable reputation worldwide and received prestigious awards for their outstanding platform lifts. They are highly favoured by businesses and homeowners alike due to their reliability and functionality. We are proud to be experts in advising on, installing, and servicing Aritco lifts.
Another key aspect that draws us to Aritco is their dedication to Scandinavian design principles. Aritco's platform lifts are not just functional; they are expertly designed to maximise space whilst offering a sense of luxury and adaptability.
Want to make your lift your own? Our Aritco Homelift AHL, Homelift Access and the smaller Homelift Compact model can be customised to include a beautiful DesignWall featuring artwork from a prominent Scandinavian artist.

About Platinum Lifts
Since the early 1980s, Platinum Lifts Managing Director Robert Strange, has been at the forefront of the industry, installing a wide array of passenger lifts and goods lifts from various manufacturers.
With a wealth of experience and extensive industry knowledge, Robert embarked on a mission to provide high-quality lifts to customers across the South, culminating in the establishment of Platinum Lifts in 2009.
In 2014, Platinum Lifts took a strategic step, forging an exclusive partnership with Aritco, a world leader known for its high-quality, reliable products and exceptional aftercare services. This pivotal decision marked a turning point, shifting the company's focus to Aritco's platform lifts, a decision Robert likened to becoming masters of their craft rather than "Jacks of all trades, master of none".
This specialisation allowed Platinum Lifts to elevate its expertise in Aritco products and raise the bar for product quality and service excellence.
Robert explains, "Our vision has always been to supply reliable platform lifts that are both elegant and functional, surpassing all standards for domestic, commercial and public access". As you delve into the product range, you'll witness this vision brought to life.
Visit Our Lift Showroom
Whether you require space-saving home lifts designed to seamlessly integrate with your living spaces or public lifts that guarantee reliability and durability, our expertise covers it all.
Want to learn more? Our brochures showcase the different models we specialise in. However, the best way to truly appreciate the quality and versatility of our platform lifts is to visit our showroom in Bristol, where you can experience our platform lift solutions firsthand, gaining a genuine understanding of their features and capabilities. Or give us a call at 0117 261 0123 for more information.